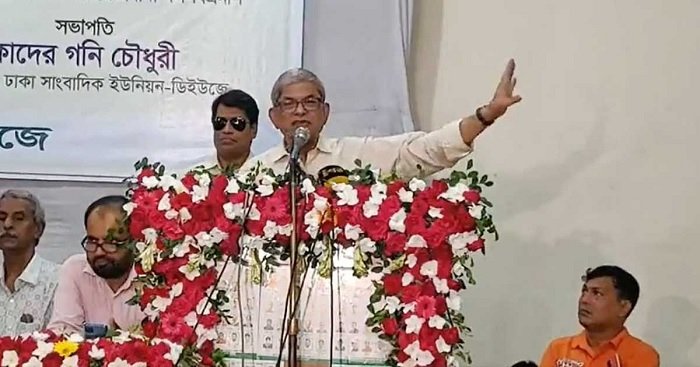 It is not worthy for the government to frighten any individual, or for any individual to be afraid of the government in the context of the present situation in Bangladesh, said BNP Secretary General Mirza Fakhrul Islam Alamgir.
He made the remarks while speaking as the chief guest at the biennial general meeting of Dhaka Union of Journalists (DUJ) at Jatiya Press Club in the capital on Wednesday.
While narrating the country's overall political situation, Mirza Fakhrul said, "We're going through a very critical situation. What we need to do at this critical moment is we must be vocal wherever we are. We must have to speak loudly."
"Our demands, our freedom… we must have to say about the spirit of our independence. We must have to tell about the gist of democracy. It is our responsibility," he said.
Commenting that many BNP leaders and workers have been giving their blood, he said Begum Khaleda Zia has remained house arrest. Many renowned politicians of our country have died. Our leaders and workers are sacrificing their lives on the streets. Thousands of BNP leaders and workers are now being harassed implicating them in false cases.
Alleging that 'old political games have started again,' the BNP leader said, "The government has launched its old game again. What is that old game? You're showing too much excitement. The cases against you will be disposed off very soon. When those cases were filed? During the so-called 9/11 regime. All the cases filed against them (ruling party) have been withdrawn and rejected. But, the cases against the opposition political parties have been kept alive and they are now being punished in those cases."
"My friends, everything has a limit. This falsehood, this repression, and torture have already crossed their limits. So, we're not afraid of anything. I have read an article of our teacher Professor Sirajul Islam Chowdhury. He has written it on 'fear.' It is not the time for the government to frighten anyone, and it is not also the time for any individual to be afraid of the government," he said.
He said, "My friends, we will have to take to the street for the sake of our survival. We will have to defeat this evil force overcoming the fear. We must have to establish a truly democratic ruling system in the country."
Chaired by DUJ president Kader Gani Chowdhury, the biennial general meeting was also addressed by Jamaat leader Abdul Halim, BFUJ's former president Ruhul Amin Gazi, journalist leader Abdul Hye Sikder, Shah Newaz Ali, MA Aziz, Kamal Uddin Sabuj, Syed Abdal Ahmed, MA Abdullah, and Shahidul Islam, among others.