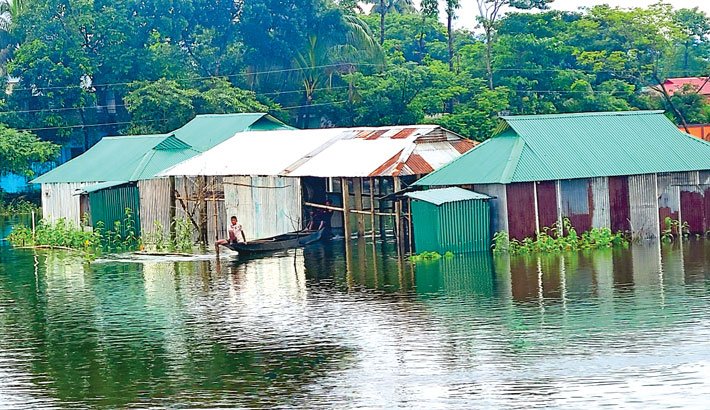 The overall flood situation has deteriorated in Sunamganj and Netrakona districts, leaving hundreds of people marooned.
Heavy downpours and upstream water have swollen rivers which water aggravated the flooding in the two districts on Tuesday.
The marooned people are passing a miserable life with inadequate relief, locals have alleged.
"All the major rivers in the northeastern region of the country are in a falling trend, which may continue in the next 48 hours. As a result, the flooding in Sunamganj and Netrakona may improve continuously," said Partho Protim Barua, duty officer (Assistant Engineer) of the Flood Forecasting and Warning Center (FFWC).
The Brahmaputra-Jamuna and the Ganges-Padma rivers are in a rising trend, which may continue in the next 48 hours, he said.
Due to the chance of heavy rainfall in the adjoining upstream, Teesta, Dharala and Dudhkumar rivers in the northern region may rise rapidly, the official said, adding that Teesta may temporarily cross the danger level at Dalia point in the next 24 hours.
Someshwari, Surma and Old Surma rivers have risen above 30cm, 7cm and 2cm the danger levels at Kalmakanda, Sunamganj and Derai points, according to FFWC.
In Sunamganj, at least 10 villages in Dowarabazar upazila have been inundated due to the onrush of water from Meghalaya and the swelling rivers.
Camper Ghat, Andairgaon, Bogula, Chanderghat, Sonachara, Noagaon, Ramnagar, Terakuri and Kandagaon villages have been inundated by the floodwater.
The Doarabazar-Tengratila-Mohabbatpur road went under knee-deep water in Sharifpur Sidingghat area due to the overflow of the Surma River.
Road connectivity has been snapped between Upazila headquarters and Narsingpur, Banglabazar, Bogulabazar, Laxmipur and Surma unions.
Hundreds of hectares of Aman seedbeds have been submerged by flood water and many ponds have already been submerged due to the rising flood water.
In Netrakona, at least 200 families have been marooned by overflowing Netai river in Durgapur upazila.
On Monday night, Netai river water broke through the dam in Dhobaura part of the neighbouring district of Mymensingh and entered Lokola. Durgapur Upazila Nirbahi Officer (UNO) Rajib Ul Hasan told reporters that the low-lying area of Kullagarh union of the upazila was flooded.
He said that water has entered the houses of about 200 families. Relief materials were distributed among the water-bound people around 11:00am on Tuesday. Sufficient relief material is stocked for them.