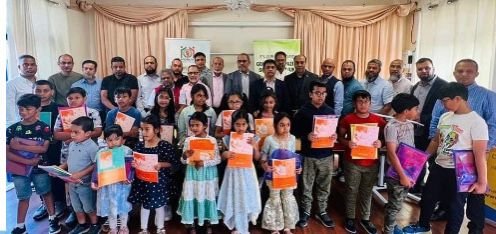 ■ Muhammed Shahed Rahman ■
Golapganj Upazila Social Trust UK launched Bangla School to promote the history, language and culture of Bangladesh among the new generation in Bangladeshi-dominated East London.
It was officially inaugurated on Saturday (16 September 2023) at 12 noon. Councilor Mayum Mia Talukder, Deputy Mayor and Education Chair of Tower Hamlets Council officially inaugurated the Bangla School at the Children's Education Center in East London.
Under the chairmanship of author, journalist and chairman of London Bangla School Anwar Shahjahan and presentation by General Secretary Tarek Rahman Chanu,
Education Secretary Abdul Bachit recited the Holy Quran at the beginning of the inauguration.
Tashoor Ali, Deputy Head Teacher of Malbari Academy and Head Teacher of London Bangla School, Councilor Abdul Mannan, Chair of Tower Hamlets Council Housing Committee, Professor Michba Kamal, Teacher of Bangla School and Treasurer of British Bangladesh Teachers Association, Jamalur Rahman, Chairman of Children Education Group, Journalist Abdul Munim were present at the opening ceremony. Zahedi Carroll, Golapganj Education Trust UK General Secretary Abdul Bashir, Community Personality Emdad Hossain Tipu, Golapganj Upazila Social Trust UK Vice Chairman Mohammad Zakaria, Treasurer Saiful Islam, Joint Secretary Raihan Uddin, Sports Secretary Kabir Ahmad, EC Member Muhibul Haque. , Mohammad Sultan Ahmad, Board Member Suhail Ahmad Chowdhury, Mohammad Shamim Ahmad, Nazrul Islam, Jahangir Hossain, Amir Hossain, Associate Member Rabeya Zaman Josna, Ruzi Begum etc.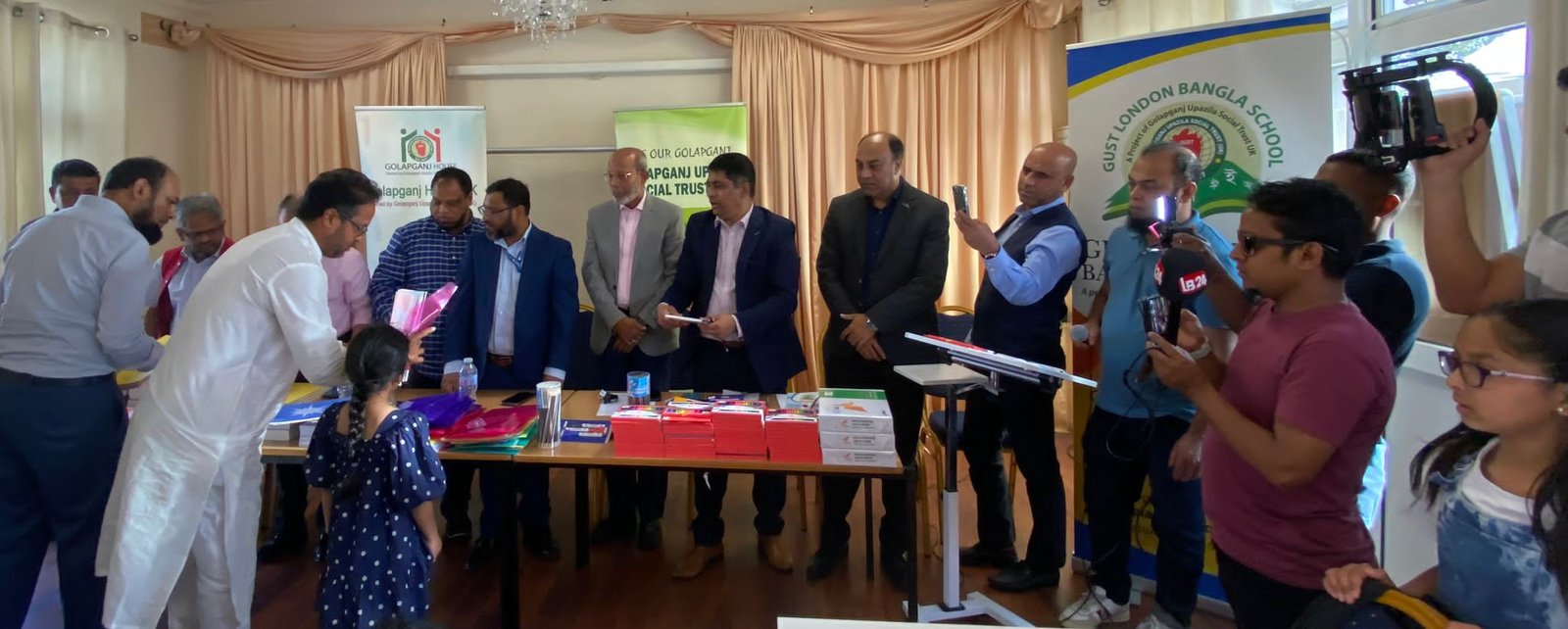 In the inaugural ceremony, 30 students were given educational materials including books, notebooks, pens for teaching Bengali language.
The chief guest of the event, Deputy Mayor Mayum Mia Talukder, assured of all facilities on behalf of the Council and appreciated such a great initiative.
It is noted that Golapganj Upazila Social Trust UK established London Bangla School for completely free education.
Tchaur Ali, head teacher of Bengali school, said, "We think it is very necessary to not only highlight the history, tradition and culture of Bangladesh to the third generation who grew up abroad, but also to make them proficient in Bengali language by establishing a Bengali school."
Bangla School Chairman Anwar Shahjahan sought everyone's cooperation to make Bangla School a success through collective efforts.
It may be noted that a management committee has been constituted for the management of London Bangla School. In future, an advisory committee will be formed with prominent people from the community. Also school governor committee will be formed with parents.
The members of the management committee of London Bangla School are Anwar Shahjahan, Mohammad Zakaria, Saleh Ahmad, Tarek Rahman Chanu, Saiful Islam, Abdul Bachit, Kabir Ahmad, Mufizur Rahman Chowdhury, Md Habibur Rahman, Mohammad Sultan Ahmad, Sohail Ahmad Chowdhury, Muhibul Haque, Mohammad Shamim Ahmad, Nazrul Islam, Md. Mustaq Ahmad Helal, Amir Hossain, Suhail Ahmad.