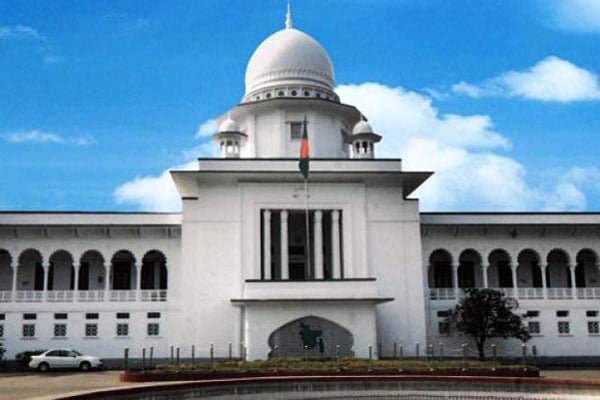 The Appellate Division of the Supreme Court (SC) has set November 6 to hold hearing on two separate petitions, including for banning political activities of Jamaat-e-Islami, whose registration as a political party has already been declared illegal.
A four-member bench of the Appellate Division, headed by Chief Justice Obaidul Hassan, set the date on Thursday. The court is also likely to hear plea for bringing contempt of court proceedings against Jamaat leaders on that day.
Barrister Tania Amir was present for the pleas, while Advocate on-record Joynul Abedin Tuhin appeared for Jamaat.
Rezaul Haque Chandpuri, secretary general of Bangladesh Tariqat Federation, and two others filed the writ and it was produced before the Appellate Division chamber judge court for the hearing on June 26. The chamber judge court, however, sent the matter to Appellate Division full bench for further hearing.
The High Court on August 1, 2013, declared the registration of Jamaat-e-Islami as a political party, illegal. Appellate Division Chamber Judge Court on August 5, 2013, scrapped a petition of Jamaat, pleading to stay the High Court judgment.
On June 26, Chandpuri and two others filed the contempt of court petition with the SC against five Jamaat leaders, including its Ameer Shafiqur Rahman, for holding public meetings as a political party despite its appeal awaiting at the apex court for disposal.
In this petition, they also brought contempt of court charges against some senior government officials for allowing Jamaat to hold the programmes in Dhaka.
The other four Jamaat leaders against whom the contempt of court petition was filed are Jamaat's Secretary General Golam Parowar, Central Nayab-e-Ameer Abdullah Mohammad Taher, Metropolitan South Ameer Nurul Islam Bulbul and Nayeb-E-Ameer, Dhaka, Helal Uddin.