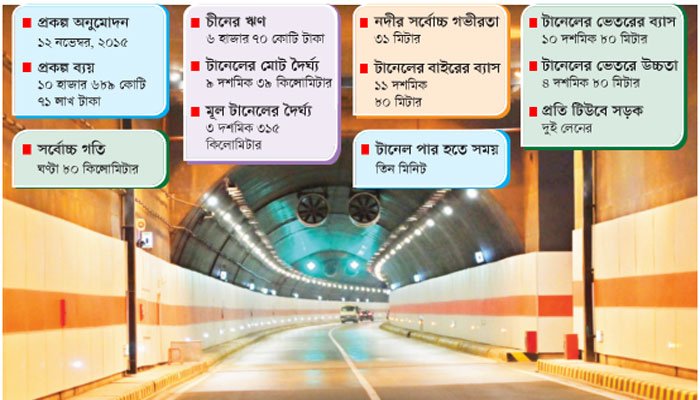 Initial work on a tunnel project to build 'One City, Two Towns' on the model of Shanghai city of China, on both banks of the Karnaphuli River in Port City Chittagong, began as early as 2017.
This project is jointly funded by the governments of Bangladesh and China (G2G). Though initially estimated to cost some Tk 8400 crore, over time that has ballooned to Tk 10,698 crore. Bangladesh government provided Tk 4,619 crore, while the China Exim Bank contributed over Tk 6,000 crore to support the project, reports UNB.
The project aims to replicate a 'One City Two Towns' concept, similar to Shanghai in China, on both sides of the Karnaphuli River.
The main tunnel has a length of 3.32 kilometres, with each of the two four-lane tubes measuring 2.45 kilometres.
Additionally, there will be a 5.35 km link road at both the west and east ends of the main tunnel, along with a 727-metre-long flyover at the Anwara end.
The tunnel is situated at a depth ranging from 18 to 31 metres beneath the Karnaphuli River.
Vehicles will enter the tunnel from Outer Ring Road, Elevated Expressway, Kathgar Road, Airport Road, and Patenga Beach Road through the tunnel's north side. Vehicles will run at a speed of 80 km per hour through this tunnel.
According to the project documents, the tunnel will connect the proposed Asian Highway with the Dhaka-Chattagram-Cox's Bazar highway and reduce the distance from Chattagram to Cox's Bazar by 40 km.