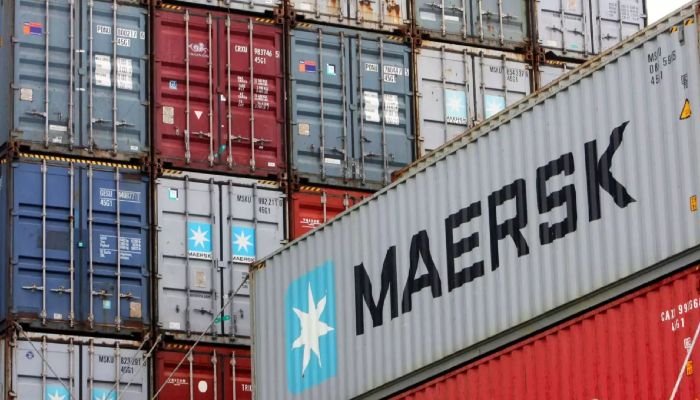 One of the world's biggest shipping firms is to cut 3,500 more jobs due to lower freight rates and demand, BBC reports.
AP Moller-Maersk already cut 6,500 roles earlier this year as part of "rigorous cost containment measures" but said more redundancies were needed.
The firm, which transports goods for major retailers such as Nike, said profits had plunged by 92 per cent in its most recent quarterly results.
It said "worsening" prices for shipping by sea required further job cuts.
The cost of shipping goods soared in the first year of Covid when lockdowns lifted and businesses began to resume trading, increasing their orders for stock.
Such high demand led to congestion and logistical problems at UK ports. There was also a shortage of shipping containers in Asia, which helped drive up inflation.
More recently, however, high inflation and rising interest rates have curbed spending and dampened demand.
Maersk previously warned in August of a steeper decline in global demand for shipping containers by sea this year.
The Danish company said in a trading update on Friday that there had been "significant pressure on rates" in the past few months.
"Our industry is facing a new normal with subdued demand, prices back in line with historical levels and inflationary pressure on our cost base," said Maersk chief executive Vincent Clerc.
"Since the summer, we have seen overcapacity across most regions triggering price drops and no noticeable uptick in ship recycling or idling."
The job losses will reduce Maersk's global workforce to below 1,00,000. Some 2,500 of the latest 3,500 roles will be cut in the coming months, with the rest in 2024.
It estimates that the redundancies will save the business £600m next year, but has not revealed the locations of the cuts or the types of roles going.
The company, which controls about one-sixth of global container trade, has already decreased its staff to about 1,03,500 from 1,10,000 earlier this year.
'An economic bellwether'
Russ Mould, investment director at AJ Bell, said Maersk's latest results suggested "the global economy is losing speed".
"If you want an economic bellwether, look no further than Maersk, as its status as one of the world's largest container shipping companies makes it a fair proxy for global growth," he said.
"Transportation demand will be strong if the economy is going well, but the opposite will apply if there are clouds on the horizon."
In the three months to September, Maersk's pre-tax profits fell to $691m compared to $9.1bn in the same period last year. Sales dropped to $12.1bn from $22.7bn.
Mould said the current situation with container shipping was being made worse due to overcapacity in the industry, which he said was "great if you are the person paying to move goods from A to B as it should enable you to barter for a lower price, [but] terrible if you're the one owning and operating the ships".
'Cost of shipping has collapsed'
Last week Garry Grant, founder of The Entertainer toy company, told the BBC's Today programme the cost of freight for the retailer's goods had "collapsed over the last six months, back to the pre-pandemic levels".
He said the cost of one container was about $2,000 now compared to $18,000 a year ago, which he said had "really helped us to enable us to bring down some prices and, in most cases, make sure that prices haven't gone up".
Following Maersk's results, shares in the group slid 11.1 per cent early on Friday.
The firm said it would maintain its expectations for revenue and profits, but warned both figures would land at the lower end of its estimates.
Furthermore, it cautioned that "a slowing global economy, risks of financial stress and a long list of geopolitical tensions, ranging from tense China-US relations, war in Ukraine and in the Middle East can wipe out the improvements expected" in the final three months of this year as well as volumes in 2024.