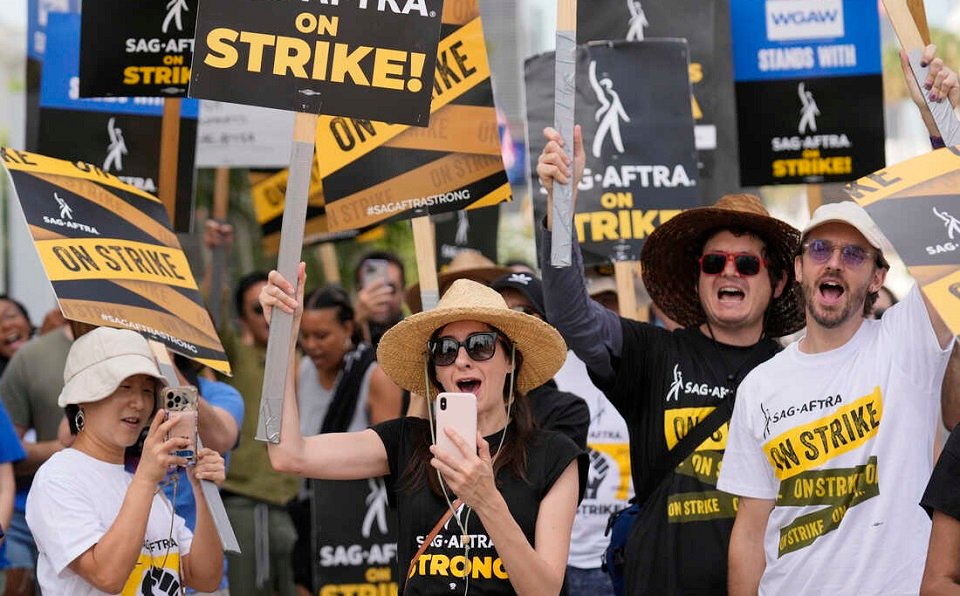 Striking Hollywood actors were due to meet with studio bosses in Los Angeles on Wednesday, raising hopes that hundreds of films and television shows could finally resume production soon.
The scheduled meeting between Screen Actors Guild (SAG-AFTRA) negotiators and heads of studios such as Disney and Netflix is the second this week.
It comes one week after Hollywood writers went back to work after resolving their own lengthy and largely concurrent strike.
Given the flurry of talks, and overlaps between SAG-AFTRA's demands and those of the writers, many actors on the picket lines this week expressed optimism that a deal could be struck soon.
"I'm so happy that the writers have a deal because I really feel like that gives us positive momentum," said union member and "Silicon Valley" actress Elyssa Phillips.
"There's a lot that's going to be similar. There's a lot that's different. But I feel like it puts a lot of positive energy … moving forward with the negotiations."
Many Hollywood productions shuttered when the writers' strike began in May.
Even with writers now back to work, most productions cannot restart until the demands of SAG-AFTRA — who walked out in July — are resolved.
SAG-AFTRA and the studios had held no formal talks until this week, when a "full day bargaining session" took place.
Following those negotiations, both sides immediately agreed to come back to the table on Wednesday.
Like the writers, actors have called for improved pay, greater transparency over profits from hit streaming shows, and better protections against artificial intelligence.
In theory, analysts say the resolution of the writers' strike should help the actors to settle a deal.
But SAG-AFTRA pay demands go further than those of the writers.
And their concerns about the threat of AI arguably run deeper.
Actors fear that the technology could be used to clone their voices and likenesses, and reuse them in perpetuity without compensation or consent.
"That's going to be a hurdle that our negotiators have to go in and contend with and make sure that we get provisions and protections against," said actress Michelle C. Bonilla, on a picket line outside Disney offices Tuesday.
Actors also have their own specific demands, such as restrictions on the use of remote, self-taped auditions, which became ubiquitous during the pandemic but are disliked by many of them.
Some film and TV productions involving smaller Hollywood studios have already resumed, thanks to temporary waivers known as "interim agreements."