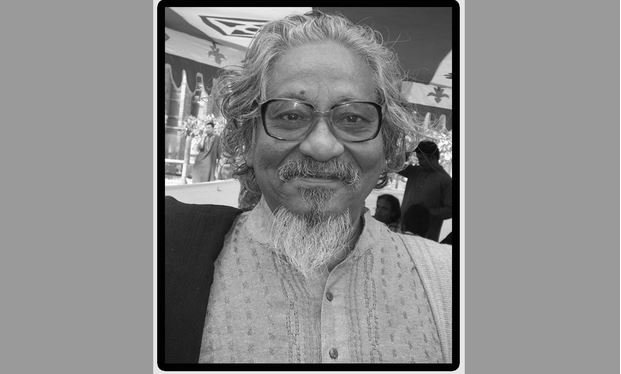 Ekushey Padak-winning poet Asad Chowdhury passed away at a hospital in Canada on Thursday at the age of 80.
He died around 1pm (Bangladesh time), his son-in-law Nadim Iqbal confirmed, adding that Asad Chowdhury had been suffering from old age complications, including blood cancer.
He had been suffering from the blood cancer since November 2022.
Asad Chowdhury was born on February 11, 1943, in a Bengali Muslim Zamindar family in Mehendiganj, which was then part of the Backergnaj District of the Bengal Province.
After obtaining a Master's degree in Bengali from Dhaka University in 1964, Asad began his career as a lecturer in Bengali language and literature at Brahmanbaria College in 1973.
During the turbulent period of the 1971 Liberation War, Chowdhury became a contributor and presenter for the Swadhin Bangla Betar Kendra in Kolkata. He was also an assistant editor for The Joybangla (published from Kolkata) and The Daily Janapada, published from Dhaka in 1973.
As a journalist, he also worked as a correspondent for The Daily Purbodesh from 1968 until 1971, and following his retirement, he worked as an editor for Deutsche Welle's (DW) Bengali service.
In his illustrious career, poet Asad Chowdhury also served as the director and fellow at the Bangla Academy and was a life member of the Asiatic Society of Bangladesh. He was also the former vice president of the Radio and TV Artists Association in the country.
He was also the founder and vice president of the Bangladesh Writers Club, served as an associate member of the National Press Club, and was the founding president of the Bengali-Urdu Sahitya Foundation in Dhaka.
'Tabak Deya Pan', 'Bitto Nai Besat Nai', 'Ekka Dokka', 'Joler Madhye Lekhajokha', 'Je Pare Paruk', 'Modhya Math Theke', 'Megher Julum Pakhir Julum', 'Nadio Bibastro Hoy', 'Premer Kabita', 'Batash Jemon Parichito', and 'Brishtir Sansare Ami Keo Noi' are some of his published and acclaimed poetry books.
As a television personality, Asad Chowdhury hosted many programmes, most notably 'Raat Birate', which garnered popularity among the viewers.
For his majestic literary contributions to the country's literature, the government conferred poet Asad Chowdhury with its second-highest civilian rank, the Ekushey Padak, in 2013. He also received the Bangla Academy Literary Award in 1987, among his other accolades.