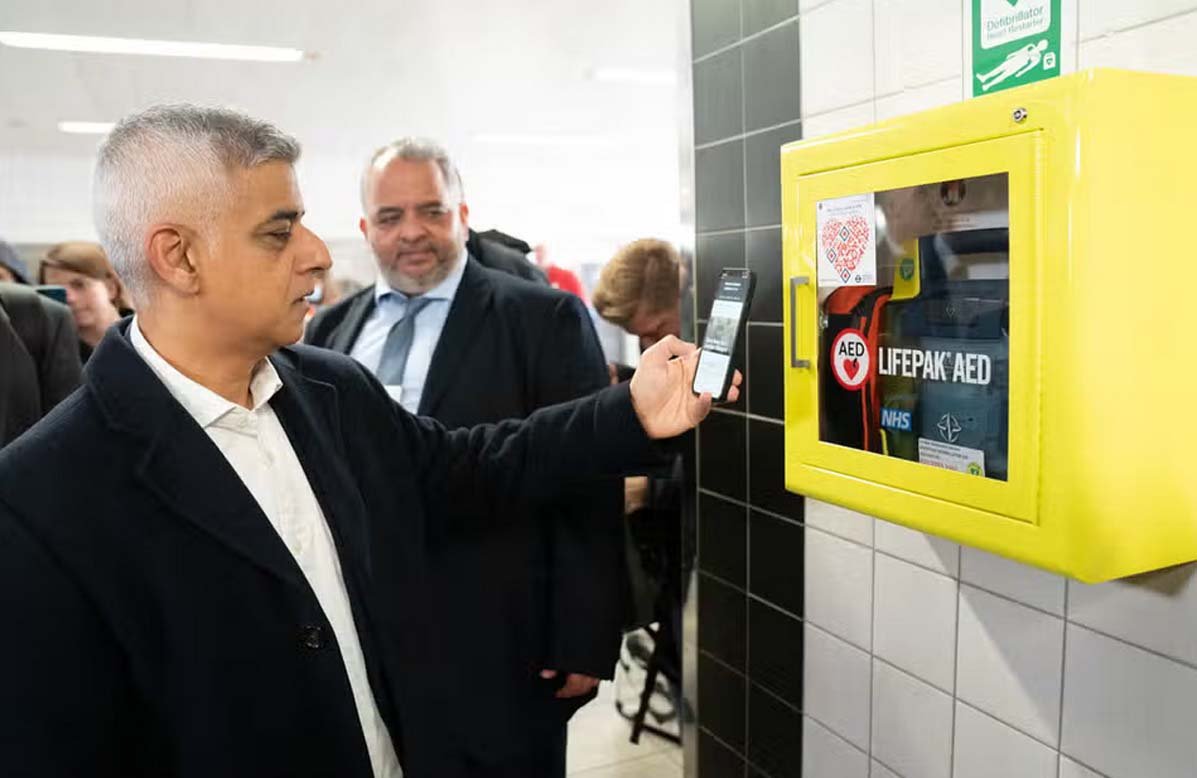 Defibrillators have been installed across London's transport network to be used by the public if a passenger suffers a cardiac arrest, Sadiq Khan has announced.
The Mayor of London on Monday confirmed that all London Underground and Overground stations have been equipped with the devices, which can restart a heart.
Last year, the London Ambulance Service responded to 13,000 cardiac arrests across the capital.
Fewer than one in 10 people currently survive a cardiac arrest and for every minute that goes by without life-saving intervention like CPR and defibrillation, the chances of a person surviving decrease by 10 per cent.
Heart-shaped QR codes are printed on every defibrillator in the TfL network which link to a video on the City Hall's website showing how to perform CPR and use techniques from the LAS London Lifesaver training.
The LAS has also launched the London Lifesavers campaign in schools, starting with Year 8 students.
Mr Khan said: "It's important that Londoners not only have the kit but the skills to step in and assist when someone is having a cardiac arrest, which is why I'm proud that we have launched a short training video, which demonstrates how to perform chest compressions and use a defibrillator.
"This rollout and education drive will ensure people travelling in our city feel safe and confident that they will be helped in the case of an emergency, and supports my aim to continue building a safer and fairer London for all."
Lilli Matson, TfL's chief safety, health and environment officer, said: "We know every second counts when saving a life, so we are pleased that as well as having first-aid trained staff at stations, our customers will have quick access to a defibrillator across the Tube and Overground."
Daniel Elkeles, chief executive of LAS, said: "We need to build a social movement that makes CPR training one of the things that lots of people know how to do and we need to get defibrillators in every corner of the city."
Dr Chris Streather, regional medical director at the Medical & Digital Transformation Directorate, said "The ready availability of defibrillators is a key step in improving survival in out-of-hospital cardiac arrest."