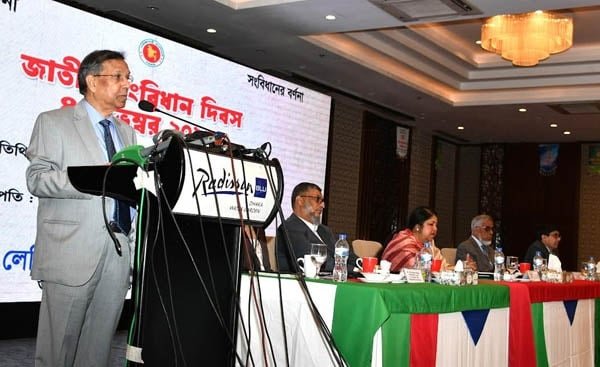 Law, Justice and Parliamentary Affairs Minister Anisul Huq has said holding elections, forming the parliament and all other activities must be done as per the constitution and laws of the country.
"Provisions for the formation of the parliament and the government and holding the elections are clearly mentioned in the constitution. Whatever happens in the future must be under the constitution and the law. Otherwise, the country will go backward again," he said on Saturday.
The law minister said these while chairing a seminar held at Radisson Blu Dhaka Water Garden here organized by the Legislative and Parliamentary Affairs Division of the Ministry of Law, Justice and Parliamentary Affairs marking the Bangladesh Constitution Day.
Based on the experience of last 50 years, Anisul said, whenever Bangladesh deviates from the constitutional rule introduced by the Father of the Nation Bangabandhu Sheikh Mujibur Rahman, the rule of law and justice in the country were disrupted.
An anarchic situation has arisen in the country and fundamental human rights have been violated, he continued.
The overall development of the country has been disrupted, he said, adding that "so, we have to learn from past experiences and move forward."
Jatiya Sangsad Speaker Dr Shirin Sharmin Chaudhury attended it as the chief guest.
Law Commission Member Justice ATM Fazle Kabir and Secretary of the Law and Justice Division Md Golam Sarwar joined the seminar as discussants.
Secretary of Legislative and Parliamentary Affairs Division Md Moinul Kabir gave welcome speech on the occasion while Professor and Dean of Law of the Jagannath University SM Masum Billah presented the key-note paper.
Diplomats of different countries, guests from various government ministries, offices and organizations, representatives of civil society and dignitaries were present in the event.