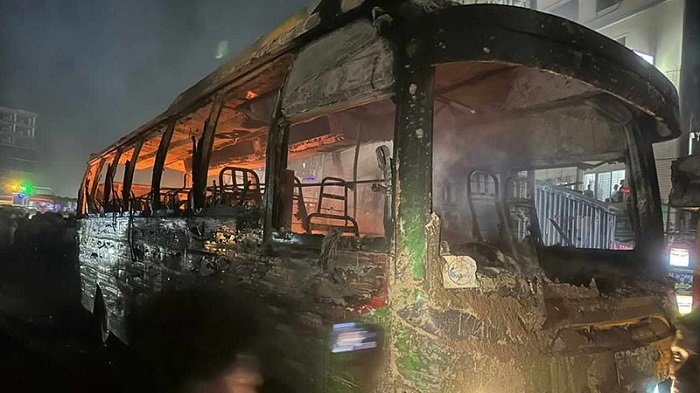 On average, more than nine arson attacks have been reported across the country every day between October 28 and November 13, Fire Service and Civil Defense said on Tuesday.
"A total of 154 arson attacks were reported across the country during this period, leaving 5 people injured," said Talha Bin Jashim, station officer of the Fire Service and Civil Defence's media cell.
Of these, 82 arson attacks were in Dhaka city, he added.
According to the fire service, out of 154 arson attacks across the country, 116 incidents occurred in Dhaka division, 14 in Chattogram, 9 in Rajshahi, 6 in Barishal, 6 in Rangpur, 2 in Khulna and 1 in Mymensingh division.
No arson attacks were reported in the Sylhet division during this period.
A total of 94 buses, 3 microbuses, 2 private cars, 8 motorcycles, 13 trucks, 8 covered vans, 1 ambulance, 2 pickup trucks, 2 CNG-run autorickshaws, 1 human hauler, 1 Laguna, 1 fire service water truck, 1 police van, 5 BNP offices, 1 Awami League office, 1 police box, 1 councilor office, 2 electricity offices, 1 bus counter, and 2 showrooms were burnt during this time, according to fire service.
According to the statistics, the highest, 29, arson attacks happened on October 28.
Analyzing the incidents, the fire service found that there were more arson attacks during the night (6 pm to 6 am) compared to daytime.
Between October 28 and November 13, 61 fire incidents occurred during the day and 93 during the night.