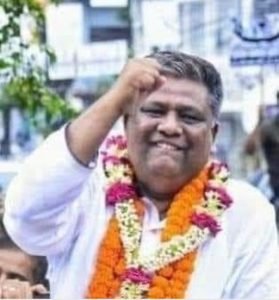 The President of Redbridge Community Trust (RCT) and other officials have congratulated Anwaruzzaman Chowdhury, joint secretary of the United Kingdom branch of Awami League, for being elected mayor in the Sylhet City Corporation election.
On behalf of Redbridge Community Trust (RCT), President Alhaj Mohammed Ohid Uddin, General Secretary Shaheen Chowdhury, Treasurer Anamul Haque, Vice President Afsar Hossain Anam and Publicity and Publication Secretary Misbah Jamal in a statement issued to the media today on Wednesday congratulated Anwaruzzaman Chowdhury for being elected Mayor of Sylhet City by a huge vote.
The RCT officials also said in the statement that Anwaruzzaman Chowdhury, Joint Secretary of United Kingdom Awami League and member of the Executive Committee of Redbridge Community Trust and resident of Redbridge is the glory of Sylhet and London.
RCT officials also said in the statement, "We are confident that the newly elected mayor will work hard, sincerely and honestly for the development of Sylhet City and the welfare of the citizens and strive to make Sylhet City a model of the developed world."