Mahatma Gandhi: lawyer, champion of non-violence, beloved leader. Nathuram Godse: journalist, nationalist – and the man who murdered Gandhi.
The Father and the Assassin traces Godse's life over 30 years during India's fight for independence: from a devout follower of Gandhi, through to his radicalisation and their tragic final encounter in Delhi in1948. Written by Anupama Chandrasekhar, one of India's most exciting playwrights and directed by the Kiln Theatre's Artistic-Director, Indhu
Rubasingham, this gripping production plays in the Olivier Theatre at the National until 14 October.
2022 Olivier Award-winner Hiran Abeysekera (Life of Pi, Sheffield Theatres/Simon Friend Entertainment)) plays the role of Nathuram Godse with Paul Bazely (Cruella, Disney) reprising his role as Mahatma Gandhi.
The cast also includes Azan Ahmed (The Tempest, Shakespeare Globe), Ravi Aujla (The Lehman Trilogy, National Theatre/Neal Street Productions), Ayesha Dharker (Chasing
Hares, Young Vic), Marc Elliott (She Loves Me, Sheffield Theatres), Ravin J Ganatra (When Winston went to War with the Wireless, Donmar Warehouse), Raj Ghatak (The Kite Runner, UK Productions/Flying Entertainment), Sasha Ghoshal (Bend it Like Beckham the Musical, Starvox Ents), Halema Hussain (Does My Bomb Look Big In This?, Tamasha Theatre), Nadeem Islam (Antigone, Regent's Park Open Air Theatre), Tony Jayawardena (East is East, Birmingham REP/National Theatre), Aysha Kala (The Motive and the Cue, National Theatre), Nicholas Khan (Life of Pai, Simon Friend Entertainment), Raj Khera, Hari Mackinnon (The Cherry Orchard, Yard Theatre/ETT/HOME), Johndeep More (The Wonderful Story of Henry Sugar, Perth Theatre), Aryana Ramkhalawon (Exodus, National Theatre of Scotland), Sid Sagar (Cabaret, ATG/Underbelly) and Akshay Shah (Kabul Goes Pop, Hope Mill Theatre).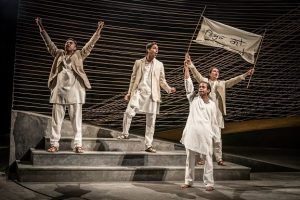 Anupama Chandrasekhar is an Indian playwright and screenwriter based in Chennai. The Father and the Assassin, was nominated for the Evening Standard Theatre Awards for Best Play (2022) and was a finalist for the Susan Smith Blackburn Prize (2023). Her work has been produced in India, Europe and North America. In 2016–17, she became the first International Playwright-in-Residence at the National Theatre Studio. Plays include When the Crows Visit (Kiln Theatre); The Snow Queen (Unicorn Theatre/Trestle Theatre); Disconnect (Royal Court Theatre/internationally); Free Outgoing (Royal Court Theatre/Traverse Theatre).
Director Indhu Rubasingham reunites with writer Anupama Chandrasekhar for this essential exploration of oppression and extremism. She has also directed Chandrasekhar's
When the Crows Visit (Kiln Theatre), Disconnect and Free Outgoing (Royal Court Theatre). Rubasingham is the Artistic Director of Kiln Theatre. Other directing work for the Kiln Theatre includes The Wife of Willesden, The Invisible Hand, Pass Over (South Bank Sky Arts Award Nomination), Wife, White Teeth, Holy Sh!t, Red Velvet (also in New York and in the West End as part of the Kenneth Branagh Season) and Handbagged (Outstanding Achievement in an Affiliate Theatre Olivier Award winner – also West End, UK tour, Washington DC and New York).
Rubasingham is joined by set and costume designer, Rajha Shakiry; lighting designer, Oliver Fenwick; movement director, Lucy Cullingford; composer, Siddhartha Khosla;
additional music by David Shrubsole; sound designer, Alexander Caplen; fight director, Kate Waters; casting director Alastair Coomer CDG, associate set and costume designer, Khadija Raza and staff director, John Young.
Tickets are available from £20 and are on sale via the National Theatre website.
For further information, including details about assisted performances, please visit nationaltheatre.org.uk.
Tickets: from £20 and shows are on until 14 Oct.  PHOTO CREDITS: Hiran Abeysekera (Nathuram Godse) in The Father and the Assassin at the National Theatre 2023. Photo Credit- Marc Brenner 0511,  The Father and the Assassin company at the National Theatre 2023. Credits- Marc Brenner 5810