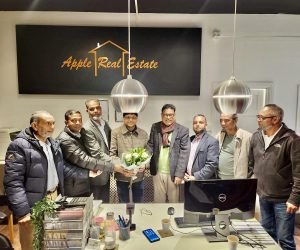 A preparatory meeting of the Redbridge Community Trust (RCT) for the upcoming awards ceremony for students of Bangladeshi origin living in London was held on Sunday, 5pm at Apple Real Estate, Oaks Lane.  President of Redbridge Community Trust (RCT) Mohammed Ohid Uddin presided over the meeting.
Secretary of Redbridge Community Trust Shaheen Chowdhury was congratulated by the RCT for being elected as the Chairman of Jagrat Nari Unyan Sanstha Bangladesh. RCT officials felicitated him with floral tributes.
RCT president Mohammed Ohid Uddin said Shaheen Chowdhury is a dedicated and promising person. He has many contributions to the community. He really deserves praise for his contribution.
In response to the greetings, Shaheen Chowdhury thanked everyone and said that as long as I live, I will work for the people of Bangladesh and the British community.
RCT President Mohammed Ohiduddin presented the report of last month's RCT activities to the E/C members and it was unanimously accepted in the meeting.
The RCT president invited all concerned to attend the upcoming prize distribution ceremony for students at the Oaks Lane Reform Synagogue Swissers.
The Chairman of the meeting thanked the members for their deep contribution and support to make the award distribution program a success.
Vice President Afsor Hussain Anam, Vice President Mohammad Faruk Uddin, General Secretary Shaheen Chowdhury, treasurer Anamul Hoque Anam, Organising secretary Moksud  Ahmed, Press and Publicity Secretary Misbah Jamal, membership Secretary Jaynul Islam Chowdhury, Social and welfare secretary  Abu Mohammed Taraque Chowdhury , Dr. Syed Mashuk Ahmed Choudhury and others.
President Mohammed Ohid Uddin announced the end of the meeting after the entertainment.