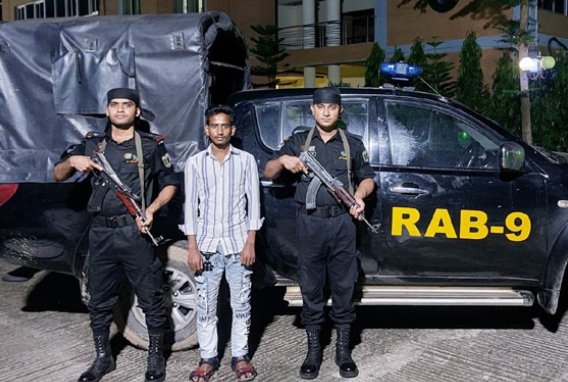 Rapid Action Battalion (RAB) arrested a convict, who was sentenced to death for killing a rickshaw puller in 2015, from Sylhet after 8 years.
The arrestee was Md Shafikul Islam, 26.
RAB-3 senior assistant police super Farzana Haque said on September 10, 2015, the victim Shamim was returning home and the convict Shafikul and his associates obstructed his way.
They hacked the victim indiscriminately and after set Shahim on fire.
Critically injured Shamim died around 2am on his way to Dhama Medical College Hospital.
Next day, uncle of the victim filed a murder case against the accused with the Kishoreganj Police Station.
On Wednesday night, based on information members of RAB-3 and RAB-9 in a joint drive arrested the Shafikul from Sylhet airport thana area.