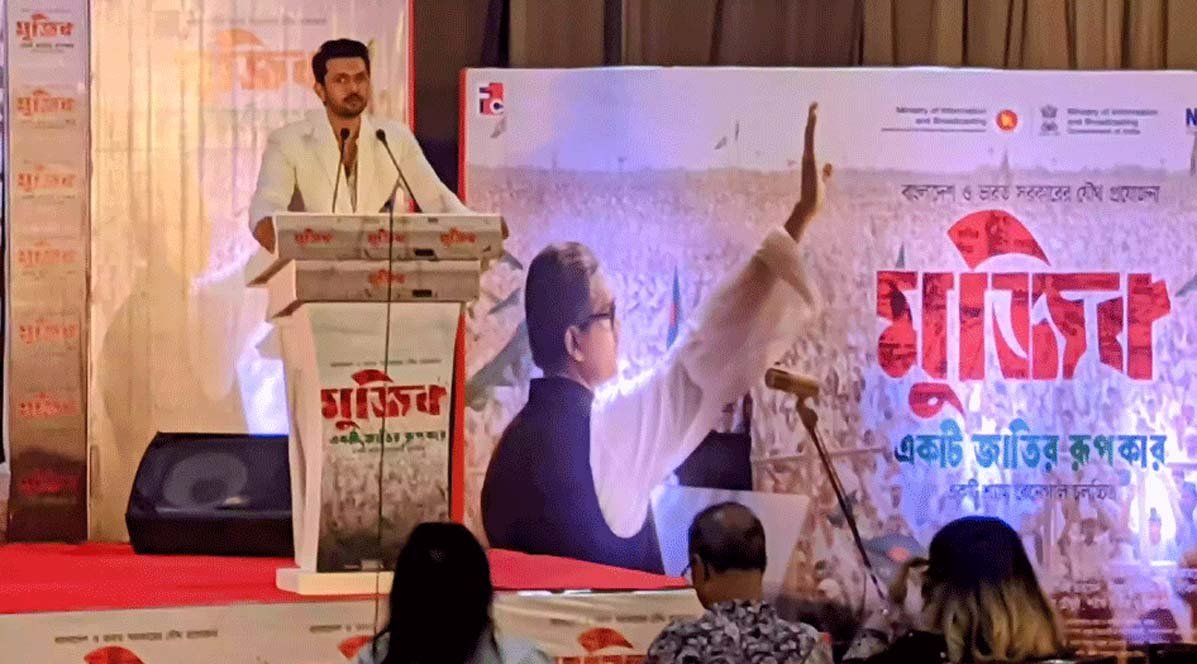 Dhallywood superstar Arifin Shuvoo, who is the title character of 'Mujib: The Making of a Nation' – the much-anticipated biopic of the Father of the Nation Bangabandhu Sheikh Mujibur Rahman, said that he had done everything possible from his end to portray Bangabandhu in this film.
"Shyam Benegal is one of the legendary Bollywood filmmakers who made this biopic. I was chosen to play the character of Bangabandhu which is the highest possible accolade for my career, and I have done my best to do justice to my character," he said.
Emphasizing on how much this film means to him, Shuvoo said, "Even if I was called to give a passing shot or called to be a spot boy for this movie, I would happily accept the duties because this film is that special to me. The people who constantly saw Bangabandhu closely in this drawing room, bedroom – his daughters – lauded our efforts and liked this film, and that is a great honour for us."
A press meet was organized by the film's distributor Jaaz Multimedia at the Pan Pacific Hotel Sonargaon in the capital on Tuesday night, where Shuvoo and his other co-actors in the film including Chanchal Chowdhury, Fazlur Rahman Babu, Prarthana Fardin Dighi and Dibya Joyti, who played as younger Sheikh Mujibur Rahman, were present along with Jaaz Multimedia Chairman Abdul Aziz.
Addressing the mixed anticipation of mass audiences regarding the film, Shuvoo said, "Biopic is not meant to be a one hundred percent carbon copy of the character but a close depiction of the reality. Sir Ben Kingsley portrayed Mahatma Gandhi in the film 'Gandhi' but that too was a close depiction, and that is the motif of biopics."
"When the person is Bangabandhu, it is impossible to showcase his majestic character on screen – but I want to assure our audiences to have patience and watch the film because I have also tried my best to play my character properly," Shuvoo said at the event.
Veteran actor Fazlur Rahman Babu played the character of Khandaker Mostak in the film, and regarding Shuvoo's acting, he said, "I can assure our audiences that Shuvoo and the rest of the artistes have really brought out their best in this film."
Popular actor Chanchal Chowdhury said, "In this film, I played the middle-aged version of Bangabandhu's father Sheikh Lutfur Rahman. Even though my shooting was done in 20 days in Mumbai, I saw how dedicatedly everyone worked on this film and I believe the audiences will like this much-anticipated biopic of our Father of the Nation."
The 2h 58m long movie is set to be released across 150 screens on October 13, and Jaaz Multimedia Chairperson Abdul Aziz informed at the press conference that every cinema hall owner is highly interested in showcasing the film.
The theatrical trailer of the film and the songs "Ki Ki Jinish Enechho Dulal" and "Ochin Majhi" were also showcased at the event.
A joint production of Bangladesh-India with the Ministry of Information and Broadcasting, Bangladesh & Ministry of Information and Broadcasting, India being the producers and Bangladesh Film Development Corporation (BFDC) & National Film Development Corporation (NFDC) Limited, India being the executive producers, the film is also scheduled to be released across India on October 27.